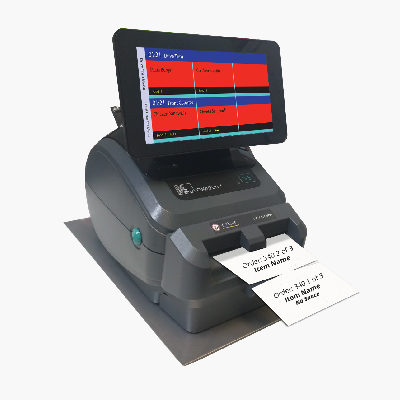 i.Print Order Confirmation
Food Safety Label Printer
The (OCS) Printer System was created for fast service and cost savings. A small touch screen, mounted above a printer, displays unfulfilled orders. With a simple touch, you can print a label for each item of the order, labels include your brand logo, product name, product modification(s), line number, total items and order number. The order confirmation system then bumps the order from the user interface and your POS system screen. (OCS) Printer System uses linerless label, allowing unlimited customizable options for your label formats.
Main Benefits of (OCS) Printer System:
Reduce Individual Packaging Costs
Improve Customized Ordering
Easily Adapt to New Menu Items

The tablet can replace or be used in conjunction with the POS order screens. The data on the screen can take on any format to best integrate into a specific kitchen operation. The order data from your POS is simultaneously routed to the tablet which can be filtered using a definition table set by the operation team. Once an item is in final wrap/box, the team member selects the item(s) to print on linerless labels. Either a single label with the item from the order or the full order on segregated labels along with an optional order summary label for the bag will be printed.

The printer will segregate each linerless label but keeps a small section attached between each label so that items are not lost and labels are easy to manage. The tablet can be set to automatically bump the order from the KDS once all the labels are printed. The recall feature is used to reprint a label if the original one is lost or damaged. The system ensures that your customers receive their orders complete and accurate with each item clearly labeled.