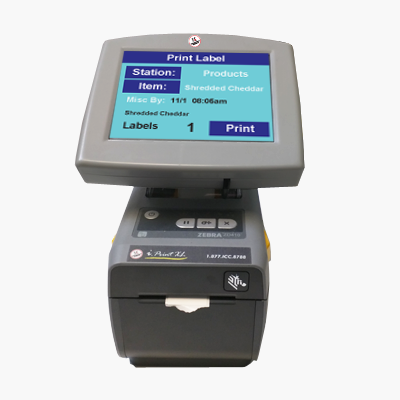 i.Print XL
Food Safety Label Printer
i.Print is an on-demand labeling system that can be used for both product rotation labeling and Grab'n'Go display labels with nutritional facts, ingredient list and bar codes. The best total solution in the market, exclusive features include: batch printing; product holding alarms; data collection and reporting; print to forecast data; calculated thaw times; extended time calculations; bar code scanning - for scan and print; temperature device interface; multiple product print at the same time, custom label designs and so much more.
Looking for an enterprise solution? i.Print can push down menu changes to your entire enterprise at the store level in a matter of seconds. Performance reports can be generated as desired. Want an extra Printer? No problem, i.Print can be configured with a dual printer or remote or wireless printer to meet your operational needs. Wide and extra wide formats or lengths with custom label designs are easy implemented. Portable, counter mount or wall mount, i.Print's slim design can be placed in very tight areas. New i.Print features a 5.7" color touch screen for ease of use and greater visual clarity. ICC is a premier partner of Zebra Technologies and thus, all i.Print products feature the highly reliable line of Zebra print assemblies.
Demonstrated ROI is often less than three months. As labor rates increase, time spent in the kitchen is more valuable than ever. The time it takes to remember a holding time and hand write a label has become cumbersome, expensive and obsolete, but most importantly prone to negligence. Inkjet or laser printers are simply not cost effective. Whether it be product rotation labeling or Grab'n'Go, i.Print will have the information presented in a clear and easy way that will save you time, money and improve food safety. For Grab'n'Go and packaged offerings, eliminate the shower bar of labels and hold only one skew of labels, so you are no longer stuck with LTO labels long after the offer has expired.
Accuracy
Eliminate: Hand Written Labels, Sloppy Handwritting and Human Error
Compliance
Simplify and standardize HACCP & FDA Compliance
Increase Efficiency
Increase Quality by always serving fresh products
Reduce Food Hazards
Reduce Manual Labor by Shortening Time to Produce Labels.